HOW IT WORKS

Love and Peas is high in Vegetarian protein (20 grams), it is known that it helps build and maintain lean muscle mass. The Vegetarian protein and fiber in this blend may increase satiety and may support healthy weight management when combined with diet and exercise. This product is vegan-certified.
RECOMMENDED USE

Mix 2 level scoops (45 g) of Love and Peas powder with approximately 12–16 ounces of cold water, or mix to taste.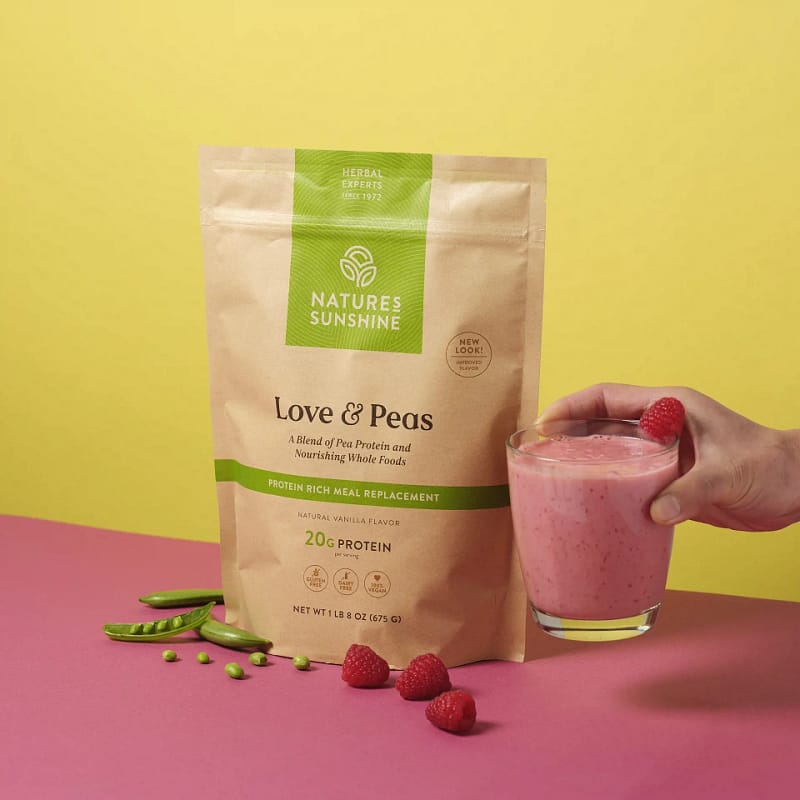 Ingredients:
Provides vitamins D, C , thiamin, riboflavin, niacin, vitamin B6, vitamin B12, biotin, pantothenic acid, iodine, zinc, copper, manganese, chromium, and molybdenum. Plus pea protein isolate (split yellow peas), fructose, sunflower oil, soluble vegetable fiber, natural flavors, short chain fructooligosaccharides, medium chain triglycerides, pea fiber, rice protein (from brown rice), flax seed, bamboo fiber, rice bran, xanthan gum, potassium citrate, sea salt, sodium citrate, carrot powder, ascorbic acid, steviol glycosides, plant enzyme blend, cranberry powder, broccoli powder, grape seed extract, black bean powder, blueberry powder, borage oil, sodium selenate, niacinamide, zinc oxide, luo han guo extract, ergocalciferol (vitamin D2), inulin, manganese sulfate, calcium D-pantothenate,
Explore More Product & Gift Basket Options:
If you're interested in our products, I encourage you to take a moment and explore them further. So, feel free to leisurely browse through our offerings and savor the experience of exploring our wide range of products. Happy shopping!
CERTIFYING QUALITY: LATEST BATCH